Tag Archives:
sustainability
The Department of Environmental Science at University of Stockholm turns 30!
Continue reading
Radboud University in Netherlands is accepting applications for PhD and Post-doc positions in sustainability assessment of pharmaceuticals in their Environmental Science cluster.
Continue reading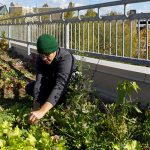 Different departments under the School of the Environment at Peterborough Campus of Trent University are offering full-time tenure-track positions. This blogpost gives a short description of these positions and their requirements for aspiring applicants.
Continue reading