In this post, Sara Gonçalves reports on how Landau researchers contributed to the 40th Annual SETAC North America conference in Toronto from November 3-7, 2019.
A few weeks ago, a group of students, PhD and PostDoc researchers, and professors of our University of Koblenz-Landau attended the Society of Environmental Toxicology and Chemistry (SETAC) 40th Annual North America meeting held in Toronto, Canada. The opening ceremony and registration were followed by a reception – a perfect first opportunity to get to know other participants and to celebrate the 40th anniversary of SETAC North America. These events were a great opportunity for scientists to meet and discuss the current and future environmental challenges on a local and global scale for SETAC as a society.
More than 2000 participants attended this meeting, affiliated with academic institutions, private and governmental sectors, allowing for a very diverse and interesting networking experience. In addition to the general sessions, there were special forums and spotlight sessions on methods of science communication, risk assessment and future challenges – just some of the highlights during our time in Toronto.
Getting a bit more into detail, during the five days of conference, we had the opportunity to listen to and discuss different case studies and methods used in our research. Moreover, we learned how to ensure the integrity of our work and how to communicate it to broader audiences.
The thirteen different parallel sessions kept us busy the whole day: Plastics, multiple stressors, amphibians, wildlife ecotoxicology, eDNA, omics and pharmaceuticals were some of our favourite topics. Between talks and chatting about the latest ecotox-related research during social sessions, the group was also responsible for some posters and platform presentations. One of the platforms "Effects of contaminants across ecosystem boundaries" represented a starting point for the recently granted SystemLink project at our university.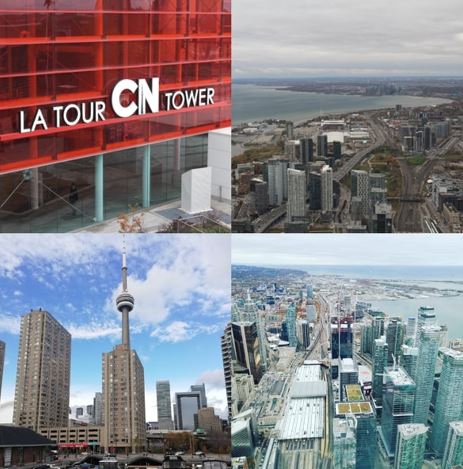 Additionally, we were invited to join the Women in SETAC and the Student Mixer social events. The latter one took place in the famous old Toronto Hockey Hall of Fame. It was a fun night, with drinks, food and dancing, and the chance to explore the multitude of interactive exhibits and games. And of course we were able to meet fellow students and friends in a relaxed setting.
Right next to the conference venue, the Metro Convention Centre, was the CN Tower which offers an amazing view over the city and Lake Ontario. During our free time, we explored Toronto's downtown area and the surrounding sights such as Niagara Falls – and we got to enjoy Toronto's first snow of the year!
On the last day, the closing ceremony opened the appetite for a last group dinner. We had a great time and learned a lot. Hope to see you all in the Dublin!