Today I would like to present the Welcome Center Landau – the main central point of contact for international students here in Landau.
Studying in a foreign country offers a variety of new experiences and contact to a different culture and language. This means an exciting time lies ahead of those interested in coming to Germany in order to study. However, before international students can dive into the campus life of the University of Koblenz-Landau, there are some administrative matters which need to be dealt with first. The Welcome Center Landau, which was only created last year, supports international students during these processes and helps them to find their way around.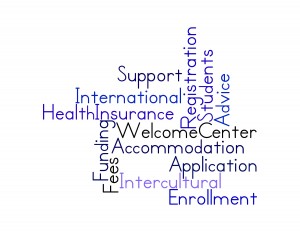 The Welcome Center website is still being built up but you will already find the basic information regarding major administrative steps – from application and health insurance to enrollment and registration with local authorities – on our homepage.
Who is the Welcome Center?
The Welcome Center is part of the International Office and represented on both campuses of the university. In Landau, it is me (Marion Kraft) who is responsible for the Welcome Center and you are welcome to contact me under the following email address in case you have any questions related to the Welcome Center: makraft@uni-koblenz-landau.de.
Where to find the Welcome Center Landau?
The office is located on campus, in building K, room 1.25 (on the ground floor).