This blogpost presents the subproject Knowledge Systems of the INTERRG project ecoserv, which deals with the knowledge transfer and communication of ecosystem services to pupils.
German version below
Within the ecoserv project, different ecosystem services in the Upper Rhine region were investigated and strategies and tools for decision-makers were developed to maintain and improve these services. However, as there is a lack of understanding of ecosystem services in society, another focus of the project was to properly communicate them. In addition to raising awareness among the general public, the long-term communication of ecosystem services in schools and out-of-school learning sites, was identified as an important aspect. Therefore, the Knowledge Systems subproject aimed at supporting the implementation of the ecosystem services topic in educational institutions. For this purpose, approaches and potentials for the topic were first analyzed and matching learning materials were subsequently developed.
In a survey among teachers in the Upper Rhine regions of Rhineland-Palatinate and Baden-Württemberg, 11 out of 98 teachers stated that they can explain the term "ecosystem services". More so, only three teachers also use this term in class, thus students are generally not introduced to this central topic in their current curriculum. However, about 75% of the respondents indicated that they would use the term more often in class if more suitable learning materials were available. Following their positive stance on integrating this topic into their curriculum, a subsequent analysis showed that there are numerous opportunities for the integration of ecosystem services in schools, in the French part as well as in the German part of the Upper Rhine region. Thus, the subproject developed bilingual and digital learning materials that can be integrated into school lessons, but are also suitable for use at out-of-school learning sites. For this purpose, various contents of the other subprojects of ecoserv were didactically prepared in such a way that they are comprehensible for students in grades four to six.
An example is the implementation of a digital application about the self-purification of streams, which was investigated in the Water and Climate Regulation subproject (see blog post): https://uni-landau.de/eeres/la-selbstreinigung/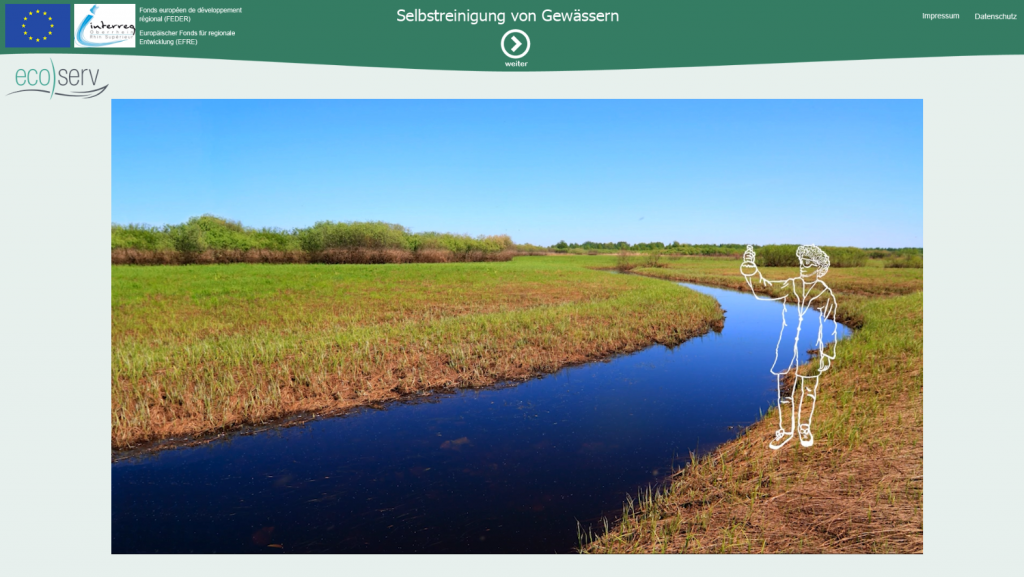 Overall, the subproject revealed that there is a generally positive attitude towards integration of such environmentally and ecotoxicologically relevant topics into the curriculum for pupils. However, it requires active support and didactically sound materials so that teachers can properly integrate these topics into their curriculum. This area of conflict should furthermore highlight how ecotoxicological principles may also be suitable candidates for the integration, but require well-planned expert support.
Further results and materials of the subproject Knowledge Systems can be found at: https://uni-landau.de/eeres/ecoserv-output/
German version
Knowledge Systems – Bildung zu Ökosystemdienstleistungen
In diesem Beitrag wird das Teilprojekt Knowledge Systems des INTERRG-Projektes ecoserv vorgestellt, welches sich mit der nachhaltigen Vermittlung von Ökosystemdienstleistungen an Schülerinnen und Schüler beschäftigt.
Im Rahmen des ecoserv-Projektes wurden unterschiedliche Ökosystemdienstleitungen in der Oberrheinregion untersucht und Strategien und Instrumente für EntscheidungsträgerInnen zum Erhalt und der Verbesserung dieser Dienstleitungen entwickelt. Da in der Gesellschaft jedoch ein mangelndes Verständnis von Ökosystemdienstleistungen vorliegt, war ein weiterer Fokus des Projektes die Vermittlung dieser. Neben der Bekanntmachung in der breiten Öffentlichkeit, war die nachhaltige Vermittlung von Ökosystemdienstleistungen in Schulen und außerschulischen Lernorten ein wichtiger Aspekt. Das Ziel des Teilprojekts Knowledge Systems war es deshalb, die Implementierung des Themas Ökosystemdienstleistungen in Bildungsinstitutionen zu unterstützen. Dazu wurden zunächst Ansatzpunkte und Potentiale für das Thema analysiert und anschließend passende Lernmaterialien entwickelt.
In einer Umfrage unter LehrerInnen im rheinland-pfälzischen und baden-württembergischen Teil der Oberrheinregion gaben 11 von 98 Lehrkräfte an den Begriff "Ökosystemdienstleistungen" erklären zu können. Lediglich drei Lehrkräfte verwenden diesen Begriff auch im Unterricht. Allerdings gaben rund 75% der Befragten an, dass sie den Begriff häufiger im Unterricht verwenden würden, wenn es passendere Lernmaterialien gäbe. Eine Lehrplananalyse zeigt, dass es sowohl im französischen Teil, als auch im deutschen Teil der Oberrheinregion zahlreiche Ansatzpunkte zur Integration der Ökosystemdienstleistungen im Schulunterricht gibt. Im Rahmen des Teilprojektes wurden daher bilinguale und digitale Lernmaterialen entwickelt, die sich in den Schulunterricht integrieren lassen, sich aber auch für den Einsatz an außerschulischen Lernorten eignen. Dazu wurden verschiedene Inhalte der anderen Teilprojekte von ecoserv didaktisch so aufbereitet, dass sie für SchülerInnen der Klassenstufe vier bis sechs verständlich sind.
Ein Beispiel stellt die Umsetzung einer digitalen Lernanwendung zur Selbstreinigung von Fließgewässern dar, welche im Teilprojekt Water and Climate Regulation untersucht wurde (s. Blogbeitrag vom 02.07.2021): https://uni-landau.de/eeres/la-selbstreinigung/
Weitere Ergebnisse und Lernmaterialien des Teilprojektes Knowledge Systems finden sich unter: https://uni-landau.de/eeres/ecoserv-output/