The SETAC North America Student Advisory Council (NASAC) is excited to announce the 5th Young Environmental Scientists (YES) Meeting, which will be from February 28th – March 2nd, 2016 at the University of Florida!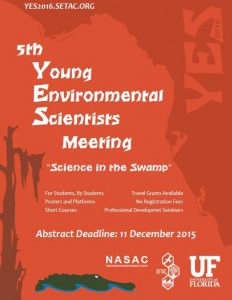 The YES meeting is a for-students, by-students SETAC conference focused on student professional development and networking opportunities. While the previous four YES meetings have all been in Europe, we are excited to bring this meeting to North America for the first time. In addition to our scientific program and short courses, we will have an opening workshop on scientific outreach and communication, a career panel focused on working within academia, government, and industry, and a seminar focused on 'What can SETAC do for you?'. This is a meeting tailored to the needs of a student audience, with an opportunity for feedback from your peers. We also do not charge registration fees and provide all short courses FREE for SETAC student members. Travel grants will be available for students to apply for who need additional support to attend the meeting.
What will the YES 2016 meeting be like?
The conference will be held at the Center for Genomics and Cancer Research at the University of Florida in Gainesville, FL. This state-of-the-art facility includes a 150-person auditorium, seminar rooms, lab space, and biotechnology core laboratories.
Our YES 2016 scientific program for this meeting will host sessions on the following topics:
»» Fate and effects of nanomaterials
»» Life cycle assessment and sustainability
»» Molecular and genetic ecotoxicology
»» Aquatic ecotoxicology
»» Terrestrial ecotoxicology
»» Environmental analytical chemistry
»» Effects and exposure modeling
»» Risk assessment and regulation
»» Public health and epidemiology
»» Ecological Stressors
»» Science in the Swamp: Florida ecology
We also have a wide selection of short courses, all free for participants:
»» Molecular biology courses offered by the Interdisciplinary Center for Biotechnology Research (ICBR)
»» Science improv
»» Grant writing
»» Nature photography
»» Swamp ecology and history of Florida wetlands
»» Scientific presentations
»» Ecological modelling
»» GIS applications
»» Professional development skills for future academics and researchers
This year our professional development seminar series is focused on science communication and outreach:
Sunday Feb 28: Science Communication and Outreach (Marianne Shockley, UGA)
Monday Feb 29: What can SETAC do for you?
Tuesday Mar 1: Career panel discussion, featuring:
»» Isabel Johnson (Industry, Golder Associates)
»» Elizabeth Carraway (Academia, Clemson University)
»» Mace Barron (Government, U.S. EPA)
Find more information on our website at yes2016.setac.org and be sure to submit your abstract by Dec 11! Any questions please contact us at students.of.setac@gmail.com. We hope to see you in Gainesville this spring!